Case Study: Facilities Management
Facilities management, also referred to as FM, is a substantial spend area for most businesses. The difference between the two types of FM, Hard and Soft, can be explained using the analogy of a house that's been turned upside down and shaken – everything that stays fixed in place is essential, like radiators, water pipes, and light fittings, so would therefore be categorised as 'Hard'. Everything that falls out is nice-to-have but not essential to the basic structure of a house, such as furniture, artwork, and cleaning supplies, so would be categorised as 'Soft'.
Services that fall under Hard FM are essential to the running of a business as they ensure the welfare and safety of employees and customers.
Examples of Hard FM:
Lighting installation and maintenance
Plumbing services
Water provision
Electrical inspection & maintenance
HVAC (heating, ventilation, and air conditioning)
Services that fall under Soft FM are designed to improve the general environment of a business but are not essential.
Examples of Soft FM:
Cleaning services
Security systems and services
Catering
Waste management
Ebit's approach to facilities management
We are regularly involved with facilities management on behalf of our clients, including those in the hospitality, manufacturing, and retail industries. With solid expertise and strong existing relationships across the industry, we can quickly model a wide range of scenarios and fast-track negotiations to achieve fair-market rates.
We have worked on a number of solutions from completely outsourced Hard and Soft FM, to integrating an inhouse maintenance team supported by market leading CAFM and asset management systems.
We have successfully supported businesses to negotiate new contracts and renegotiate existing contracts (including mid-way through contract). We have helped businesses understand which providers best match their requirements and overhaul operations to better suit their needs, and importantly the desired customer experience.
Here's just one example of how we have helped a client with their facilities management requirements:
We worked with a medium-sized business with an FM spend of more than £7 million and a supplier base of more than 500 suppliers. We identified and shortlisted a new market leading provider with the following benefits:
Increased spend control
Increased compliance and warranty control
Standardised service levels across portfolio
10% year-on-year saving for the duration of the three-year contract, resulting in a seven-figure saving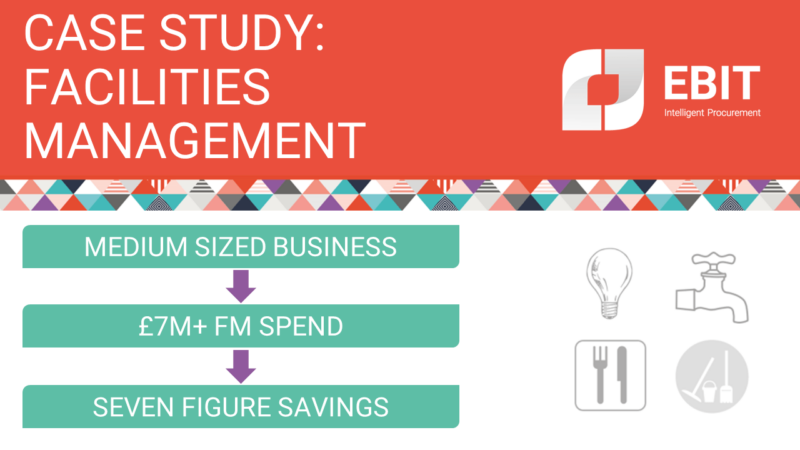 Contact us to find out how we can help your business reduce FM costs.
Interested and want to read more? Find more information on retail packaging, procurement technology, payment processing, indirect spend, courier services, contract management, packaging, consumables, and print.