Case Study: Temporary Labour
As we head into one of the peak trading periods of the year, many retail businesses will be utilising temporary labour to service an increase in orders, particularly with the surge in online shopping during 2020. This period of peak trade will affect every part of the retail supply chain, from customer service to warehousing to courier delivery services.
Christmas aside, almost every type of business utilises temporary labour, such as administrative office workers, haulage drivers, construction workers, catering staff, factory workers, agricultural laborers and many more.
Temporary labour, also referred to as contingent labour, allows businesses to flex to meet the peaks and troughs of trading. Costs are influenced by government legislation and competition for labour; the procurement opportunity is to benchmark the providers management fees and contract SLAs/KPIs to optimise value for money and to ensure that labour is available when it is needed. A contract should optimise temporary labour to flex resource in line with fluctuating demand.
An agency can manage all aspects of labour management on your behalf, for example:
Recruitment
Right to work checks
On-boarding
Health & Safety
Training and development
With this taken care of by the agency, your internal HR team and managers can focus on performance management.
Ebit's approach to temporary labour
Ebit can quickly ascertain whether your existing agency fees are a fair market rate using our extensive benchmark data, assessing cost and service criteria.
Here is just one example of how we have helped a client with their temporary labour requirements:
We worked with an omni-channel retailer to:
Deliver a 10% saving and optimisation of their temporary labour spend
Add value by conducting a contract audit to ensure that it was fit for purpose and future-proofed. To do this, we:

Reviewed the schedule and scope of works to make sure they were appropriate
Outsourced a number of activities to the agency, enabling the business to reduce the FTE requirements internally
Ensured that it was a flexible, mutually serving contract with appropriate SLAs and KPIs
The contract ensured all legislative requirements were met, with provision for temp to perm roles at no additional cost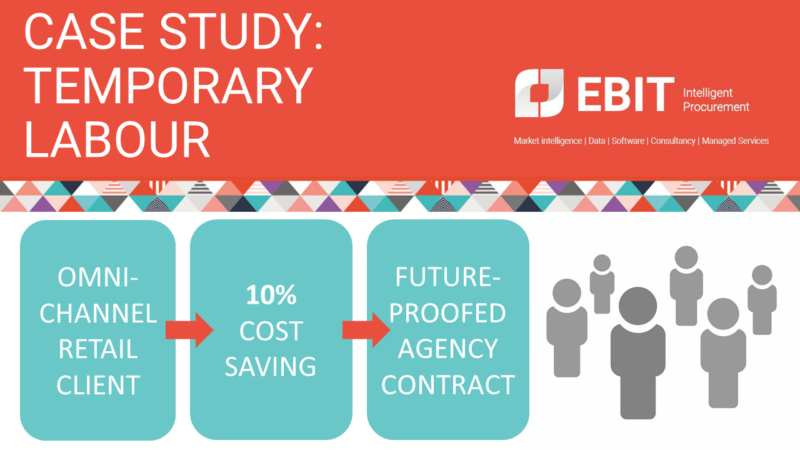 Contact us to find out how we could help your business too.
Curious about our typical client approach? Click here to find out more.