Spend category highlight: Payment processing
Does your business process payments, whether in person, online, or via mobile?
Retailers, hospitality businesses, takeaways, wholesalers, charities, professional services companies and many other businesses rely on the ability to take payment for goods and services.
However, from a procurement perspective, payment processing can be a complex spend area given the various different fee structures and layers. It's important to be detailed in approach, looking beyond just headline pricing and solutions to deliver the best operational solution and customer experience. The devil is truly in the detail and in understanding all the various elements of this specialist area.
At Ebit, we consider payment processing a specialism and our team includes experienced people with dedicated expertise in this area. The combination of this expertise and experience in running multiple tenders means Ebit has unique insight and benchmark data spanning across all aspects of payment processing, including merchant acquiring, payment gateway and fraud screening.
Examples of recent projects include:
Ebit ran a tender process end-to-end for merchant acquiring and payment gateway services for a £150m turnover fashion retailer resulting in a 32% merchant acquiring cost saving and 35% payment gateway cost saving. This included transitioning from two incumbents to a new, full-stack service provider, adding additional payment methods to the checkout.
Ebit ran a tender process for merchant acquiring services for a £150m turnover hospitality business resulting in a 45% merchant acquiring cost saving from incumbent providers, equating to a £1m saving over the course of the contract term.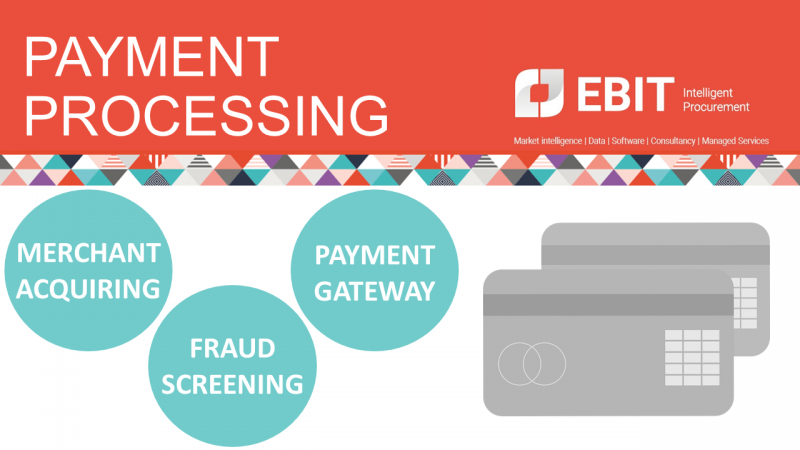 Could you benefit from reducing payment processing costs?
Contact us to find out how we can help.
Interested and want to read more? Find more information on indirect spend, courier services, contract management, packaging, print, and consumables.