Case study: Tail spend management
According to the Pareto principle, 20% of suppliers make up approximately 80% of spend. Good procurement practices would suggest focusing on these suppliers as a priority due to their high-value contracts and individual impact on the business.
What about the remaining 80% of suppliers? Higher in quantity but lower in value, they are often overlooked, yet when combined their total contract value makes up 1/5 of an organisation's total spend. If left unchecked costs can snowball quickly and the list of this 'tail end' suppliers will grow. With undermanagement and lack of focus, process and control falls down leading to the potential for these suppliers to overcharge and under-deliver.
It's a question of internal capacity: it's rare for an in-house procurement team to have the resource to properly focus on the 80% of suppliers that make up the tail-end 20% of spend. They require a disproportionate amount of time to manage effectively.
Where there are opportunities to consolidate spend, it is possible to not only increase buying power and leverage improved cost prices, but also to increase the importance of that organisation to the remaining suppliers so they can benefit from the improved service. By reducing the number of tail end suppliers, employees make use of the existing supplier base, spend less time and effort setting up new supplier records, and the end-to-end internal purchase-to-pay costs are reduced.
Can you really afford to ignore 20% of your total spend?
Ebit's approach to tail spend management
Ebit is highly experienced in managing and rationalising tail spend, with the ability to take on this resource-heavy task without impacting an internal procurement team's day-to-day work or taking resource away from other priorities. We can leave you with an organised tail spend which is more manageable for the future.
Here are a couple of examples of how we have helped clients manage their tail spend.
Retail client
This fast-growing online retailer had a large, fragmented GNFR supplier base that had grown with it as it expanded across Europe. Through a supplier rationalisation project, Ebit delivered savings of 19% and reduced 45 suppliers down to one. Other benefits included single-invoice, extended payment terms and payment for stock on call-off rather than up-front
After speaking to stakeholders and visiting sites to view stock, Ebit identified inefficiencies such as delivery delays leading to stockpiling issues, which was bad for cashflow. As a result, the chosen supplier also managed stock and volumes to aid demand management and delivered on a next day basis to give confidence in the supply chain. SLAs and commercial terms that were put in place incentivised the supplier to deliver great service and benefit from future cost reduction achieved
Manufacturing client
Ebit saved seven figures with a tail spend management project
Ebit increased spend consolidation, leveraged existing contracts, and mandated 60-90 day payment terms. The procurement process was future-proofed through the implementation of a new triage process to funnel demand based on spend, improving governance. Additionally, Procurement was added as an approver for all POs over a certain value, and a new principle of "no PO no pay" applied to all suppliers. A senior Director was appointed as an escalation point in order to create a "psychological gate" to discourage unnecessary spending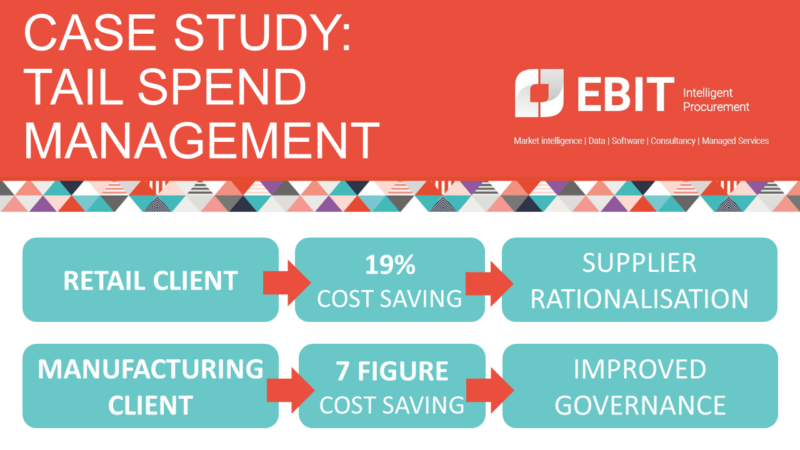 Contact us to find out how we could help your business too.
Interested in reading more? Take a look at our FM and packaging case studies.