Ebit Intelligent Procurement: Our Services
At Ebit Intelligent Procurement, we work with our clients to reduce costs, increase business efficiencies and support internal procurement functions. We add value with our contract database technology, training sessions, and implementing procurement best practice.
The working relationships we have with our clients can vary depending on requirements and desired outcomes – below are some details of the more popular options. All types of engagement are underpinned by our cloud-based contract management software. No two clients are the same and as such we work alongside an existing procurement function as much as we work where there is no team in place.
SaaS – Contract Management
We have a propriety contract management software that is embedded into our clients' business practices
Our software supports effective commercial governance and risk management
Managed Services
Outsourced procurement, where we act as an in-house procurement function for all or selected spend categories
Longer term fixed term contracts with clients
We have permanent resource on site
Often, we work alongside the client's own in-house procurement team
Fixed budget and clear payback
Consultancy
We work onsite alongside our clients to deliver a high volume of projects at pace
We typically work across all indirect spend categories
This type of engagement is aimed at optimising the commercial relationships a client holds, focusing on both pricing and process. We then hand back to the client to maintain once we are offsite
Strategic Projects
Recognising our expertise across all areas of GNFR, we are asked to lead and support specific projects, especially within larger clients
This may be a short- or longer-term project
Typical areas falling into this remit would be IT, Merchant Acquiring Services, Utilities, Facilities Management, etc.
Our approach is flexible so that we can provide the best solution for each client's requirements.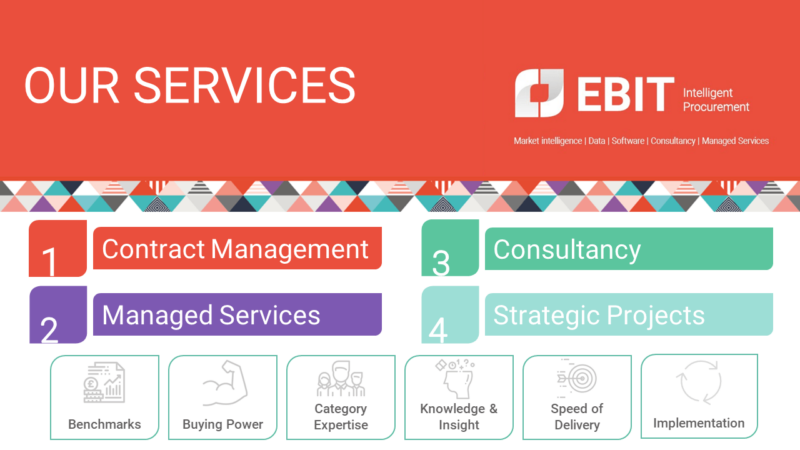 Reach out today to find out how our services could help your business.
Want to find out more about Ebit Intelligent Procurement? Click here.