Spend category highlight: In-store music
The world of retail is highly competitive, and it's no longer just a case of stores competing for footfall. The rise of ecommerce and online shopping, which has been further accelerated by the pandemic, means that it's vital to get the in-store experience right to encourage consumers back onto the high street. Anyone in marketing will tell you that in retail, the mood set in stores is paramount. From the direction flow, to lighting, to store fit outs, how you portray your goods is key to obtaining your target audience.
Music, then, can also play a big part in this, with numerous studies showing that the type of music played in-store can have a significant impact on customer purchasing behaviour. For example, happy music tends to increase a person's intention to buy items in a store when compared to sad music. Music tempo can have an impact too – playing slow music in a store tends to lead to longer browsing time and therefore an associated increase in sales. Volume can also make a difference, with the majority of shoppers spending more time in stores with softer background music. That said, there are demographic differences, with younger people preferring louder music. As a result, it's important to consider your target customer and building your in-store music choices around their typical demographical preferences.
Key considerations when going out to tender for in-store music and media services:
Licensing
It's imperative you purchase your music through reputable companies due to licensing legislation. A reputable supplier will not only provide you with state-of-the-art hardware and stream the music itself, but also ensure all compliance is met.
The music itself
Do you save yourself some money and stream unsigned artists, or is it more important your customers hear recognisable songs? Will this end up costing you more money in lost sales in the long run?
Communication with customers
In store media systems don't just include music but also messaging and customer notices. It's likely that you will want to make announcements, playing out messages that make customers aware of special or seasonal notices such as 2 for 1 on certain goods. These messages will be scheduled and each individual message you add to the schedule will be an additional cost.
Hardware
This may include the media player, speakers, cabling and amplifier. In recent years, it has become more common to move away from a media player, opting for a streaming box straight to the speakers. This helps to reduce total cost of ownership as media players tend to need repairing or replacing within 2-3 years, whereas streaming boxes require less ongoing maintenance and therefore last longer.
Choosing the right supplier
The partner you choose will work with you on your music choices, helping to compose playlists that fit your brief, and making suggestions that will engage your customers. The right partner should help you to consider unique initiatives to drive cost savings, such as covers rather than original music.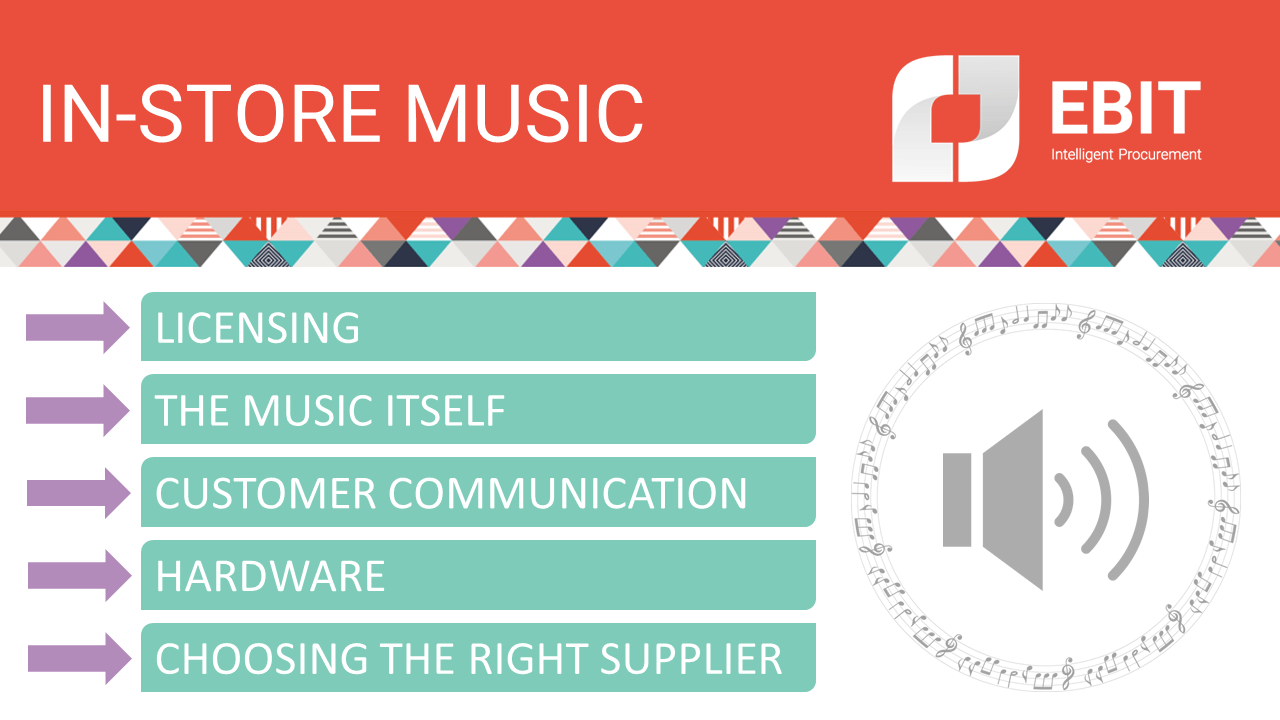 Contact us to find out how Ebit could help your business with in-store music as well as many other GNFR spend categories.