Case study: Payment services
As with all commodities during these challenging times, payment services have had to change and adapt to a more digital world.  Customers now expect reliable, easy and fast checkout journeys – not meeting these needs can see sales fall at the last hurdle. Today sees the mandating of Strong Customer Authentication (SCA) across the UK e-commerce payment-scape, requiring 2 factor authorisation for many more transactions.
Payment providers that have not worked closely with their retail partners to plan and prepare for this change run the risk of many more customers abandoning their shopping carts, leading to lost revenues and damaged reputations. This is highlighted by new data, released today from Barclaycard Payments, who saw 43,000 transactions a day, worth £3.64 million declined at the point of sale during February as online businesses were not able to route transactions through an SCA compliant channel and shoppers abandoned their transaction.
Ebit's approach to payment services
At Ebit, we understand just how important the role of payment services is to your business. Our payment specialists are dedicated to understanding the ever-changing checkout landscape.  We have run tender projects for clients spanning the retail, leisure, and restaurant sectors, resulting in comprehensive insight into a wide range of technical conditions for various scenarios.  We can help scope and set your requirements and expectations, run thorough due diligence projects to identify the most suitable provider, achieve fair-market rates and negotiate a contract that future-proofs your company's needs.
Here's an example of how we can help:
About the client
Ebit worked with a £200m+ turnover retailer with more than 170 stores across the UK and Europe and an eCommerce operation with an international reach. The client did not have an established internal procurement function for GNFR spend.
Project overview
Ebit engaged with the client on a consultancy basis, supported by Ebit's contract management software. Reviewing all categories and sub-categories within GNFR spend, Ebit ran several projects across departments to improve processes and commercials, including payment services.
Results
The payment services project resulted in a 10% saving on like-for-like costs.
In addition to this, further cost benefits will continue to be achieved:
Sale uplifts (achieved by implementing new payment methods and reducing payment friction)
Omnichannel experience improvements
Back office reconciliation changes
Subsequent to the savings being delivered, Ebit has continued to work with the client to draw up the appropriate commercial agreements, ensuring that the benefits negotiated do not get eroded over time. This includes SLAs, KPIs and regular QBR meetings.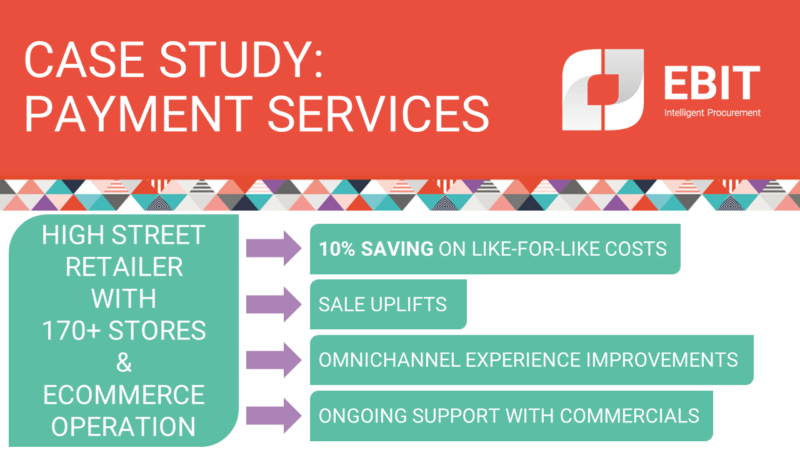 Get in touch to find out how we can help.